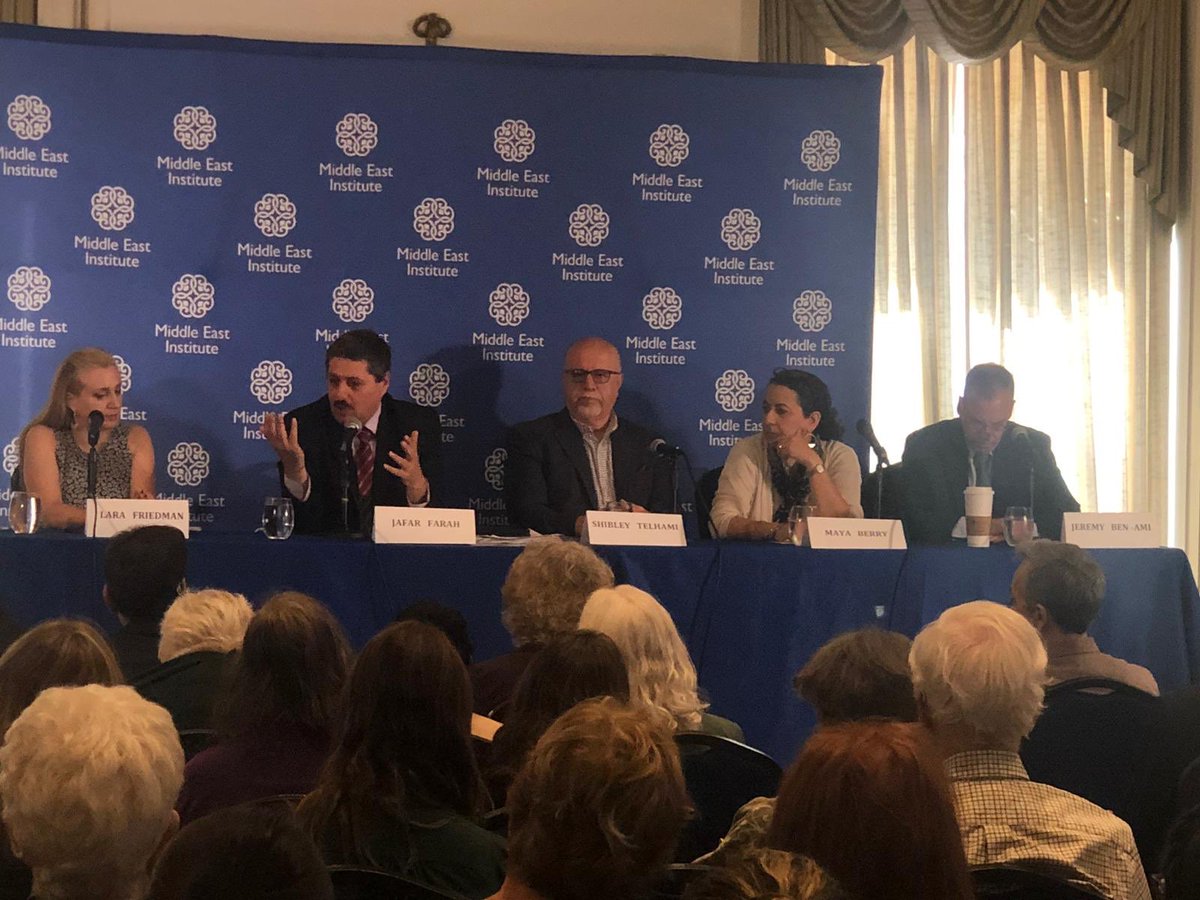 Friends of Mossawa kicked off its advocacy program in North America with a public event in Washington DC on Tuesday, June 11th, 2019.
Co-hosted by the Foundation for Middle East Peace and the Arab American Institute, the panel discussion "The Deal of the Century: What about Palestinian citizens of Israel?" came at a pivotal point for the Arab community in Israel, faced with upcoming elections that could end Netanyahu's monopoly over the Israeli government.
Addressing a full room at the Middle East Institute, panelists Dr. Shibley Telhami, Senior Fellow at the Brookings Institution, Maya Berry of the Arab American Institute, Jeremy Ben-Ami of J Street, Mossawa Director Jafar Farah, and moderator Lara Friedman of the Foundation for Middle East Peace sparked a fruitful discussion. Opened by the Friends of Mossawa Coordinator Suha Salman Mousa, the experts focused on a number of issues, including civil rights violations, the impact of the recent elections, the Jewish Nation-State Law and the upcoming "Deal of the Century," which has already been treated with much skepticism by Arab leaders and the wider community in both Israel and the US.
Speakers raised concerns around the impact of the Trump Administration on both Israeli and US domestic policy. Telhami echoed Farah's lamentations of a two-state discourse characterized by separation and blasted the current administration as "a disaster for both Israelis and Palestinians."
Maya Berry drew attention to an increase in civil rights violations against Palestinians on both sides of the Atlantic, including Omar Barghouti and Hanan Ashrwai being denied entry to the United States, and an increase in hate crimes. At the same time, she noted that the discourse surrounding Palestinians is also shifting, citing a recent J Street poll of Democratic voters indicating that 75% prefer political candidates with a balanced approach that favors both Palestinian and Israeli rights. Furthermore, she called for an "honest conversation" about the US role in the peace process.
Farah called on progressive actors in the US and around the world to work together to promote human rights and pluralism in Israel, emphasizing the need to promote inclusion and democracy within Israel to overcome the political stalemate in the peace process.
Ben-Ami indicated a slow but marked shift in US Jewish views towards Israel, stating that more and more US Jews are distancing themselves from Israel and the 'powerful myths' on which they were raised, going as far as to say that many have had their heads 'buried in the sand' for the past seven decades. According to Ben-Ami, however, this is not indicated in the leadership of US Jewish institutions, who are unwilling to denounce the current situation in Israel as 'morally and strategically wrong' and against the tenets of the Jewish faith.
The Mossawa Center thanks the speakers and partners mentioned above for contributing to such an important discussion. Over the course of the coming week and a half, Mossawa Director Jafar Farah and US Coordinator Suha Salman Mousa will continue to meet with members of Congress and Congressional staffers, as well as Canadian parliamentarians and government officials. For more information about the tour, please contact [email protected]