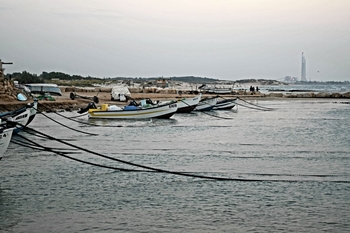 EU Ambassador and Mashreq Official visit the town of Jisr az-Zarqa
On Wednesday, 6 November 2019, EU Ambassador, HE Emanuele Giaufret, accompanied by Mashreq official in the European Foreign Ministry, Colin Scicluna, visited the town of Jisr az-Zarqa to witness first-hand the situation in one of Israel's poorest localities, and our responses to it. The visit was part of a community development program implemented by the local council in cooperation with the European Union, the Center for Equality, the Faculty of Law at Tel Aviv University and the Arab Center for Alternative Planning.
The delegation was given a tour of the town by the head of the local council, Sheikh Murad Ammash, and met with the council's staff to hear about the challenges facing the town. Jisr az-Zarqa faces enormous barriers in planning, education, violence, infrastructure, and health. The life expectancy is twenty years below the national average, the average income is half of Israeli average, and 80% of residents live beneath the poverty line.
But it is also the only Arab town in Israel on the sea front, and it is based in close proximity to the national hiking trail. The Mossawa Center has partnered with Jisr az-Zarqa's local council and other organizations to tap into this vast potential to put the town on the global map, and this was showcased during the EU visit. The Mossawa Center has worked closely with Juha's Guesthouse, a local hostel co-owned by a Jewish and Palestinian Arab citizen of Israel. One of the owners, Ahmad, explained how the hostel organizes tours of the area, boosting local businesses, but also how the hostel acts as a meeting space for community groups, empowering youth. A local activist, Saada, outlined how the hostel has helped her: "Once my husband found out that the guesthouse has educational workshops for women, he encouraged me to join them. I work in making the jewelry and sell them currently in order to help provide for my family". The delegation then met with business partners Moran and Nimer who are developing a shared working space on the beach, which can already boast programmers and fashion designers among their users.
The organizations working with Jisr az-Zarqa's municipality exhibited a range of legal, parliamentary and media interventions which they have used to secure the rights of the local population. The Mossawa Center's tireless advocacy work regarding state budget allocations has helped to kickstart a 6 million NIS renovation of the transportation system, and to secure 300,000 NIS for infant health and 2 million NIS to local schools.
Months of advocacy, dedication, and hard work are allowing the people of Jisr az-Zarqa to become the masters of their own destiny, against the grain of years of neglect by the Israeli government. The Mossawa Center is honored to support this community in every step of this journey.