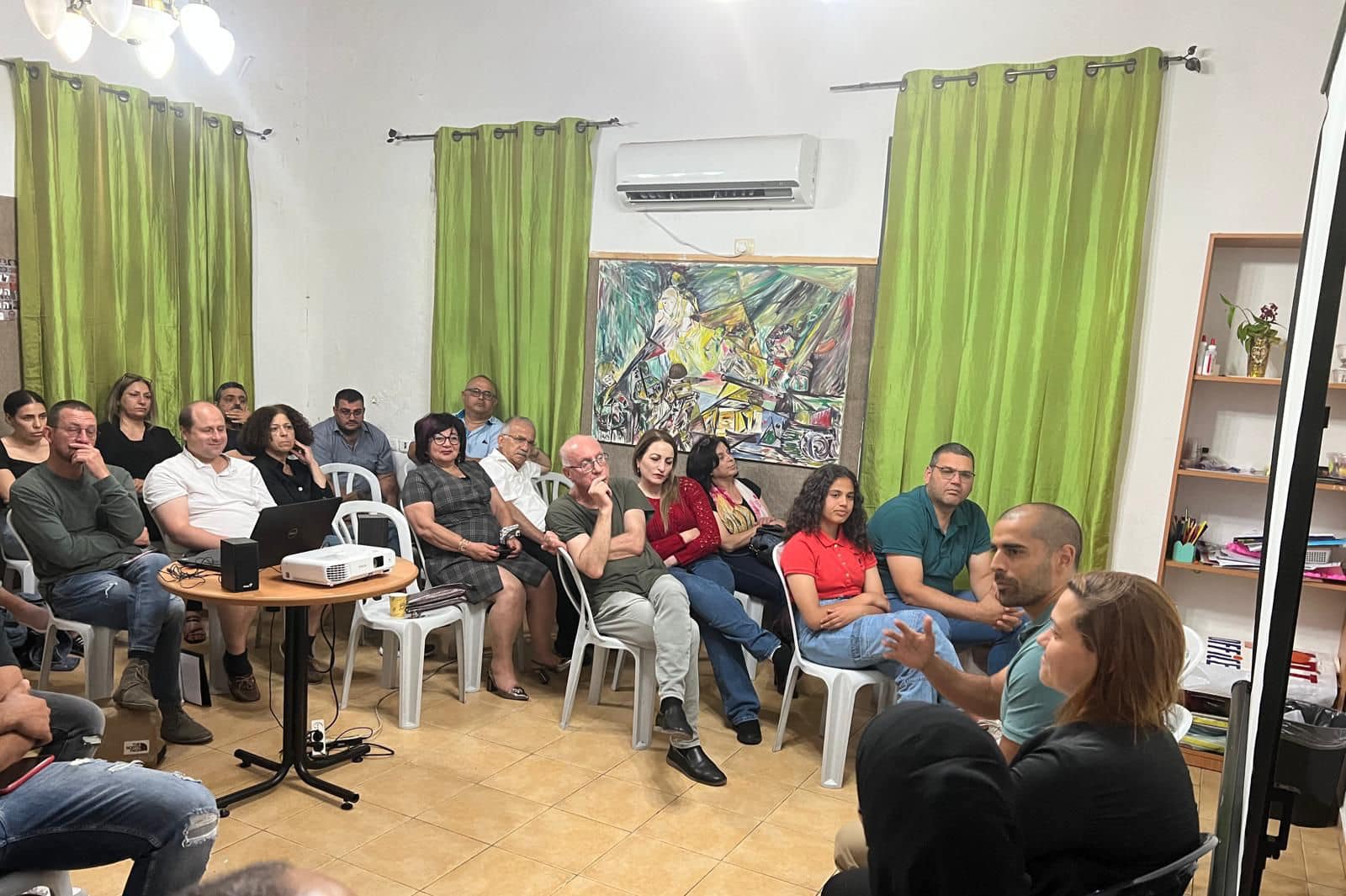 "A kid that threw an onion at police gets tried in court, but the killer of martyr Musa Hassouna walks free!"
The Mossawa Center hosted the late Musa Hassouna's wife, Marwa Hassouna, Wednesday evening, along with Lod municipality members Fida Shehade and Yafa Abed Abu Shehade, as part of a program in cooperation with the Tishrin Association and Al-Yamama Al-Naqbawi Theater.
The program included a short film documentary that included testimonies from participants of the Dignity Strikes of May 2021, in commemoration of the first anniversary of the events. The testimonies included eye-witness reports from major cities like Lod and Jaffa and described the police's policy of ignoring Arab-Palestinian minority safety, and allowing right-wing settler violence and harassment.
The evening was kickstarted by Mossawa Civil Society Coordinator Ali Ali-Saleh, who pointed out the importance of documenting these testimonies and creating shared memory to look back upon.
Marwa Hassouna, wife of the late martyr Musa Hassouna, spoke of her struggle after the martyrdom of her husband, who was killed arbitrarily and without good reason besides racial discrimination against Arab-Palestinian civilians.
During open discussion with the audience, Marwa was asked of her source of strength during these difficult times, to which she replied, "my love for Musa pushes me to be strong and keep going. The more time that goes by, the stronger I'm getting." She shared that even if the killer was apprehended, it wouldn't alleviate her pain, but only give some sense of comfort that it will serve as an example or deterrent to other violent right-wing settlers. Marwa assured of her persistence, sharing how she remains up to date on the case even after it was closed, in light of reports that the killer returned home to sleep in his bed without a guilty conscience or police tracking. Additionally, the suspect was only interrogated for one day, and leaked information points to a single police official who ordered the case be closed as he considered the investigation into the source of the bullet that killed Hassouna a waste of resources, since the victim was Arab-Palestinian!
Fida Abu Shehade, Lod Municipality member, confirmed that there are around 11 terrorist settler organizations operating in Lod with massive budgets, and indicated that Arab-Palestinian civilian face rampant discrimination and harassment.
Abd Abu Shehade emphasized the importance of documenting and archiving these testimonies, in order to preserve and convey the real image of what happened in May, as well as maintain regular meetings to discuss and share. He notes that the events were not surprising for many, as cases of racially motivated harassment and violence has always persisted, and that there are countless organizations working tirelessly to incite violence against Arab-Palestinians.
The participants expressed their gratitude to the producers of the documentary.