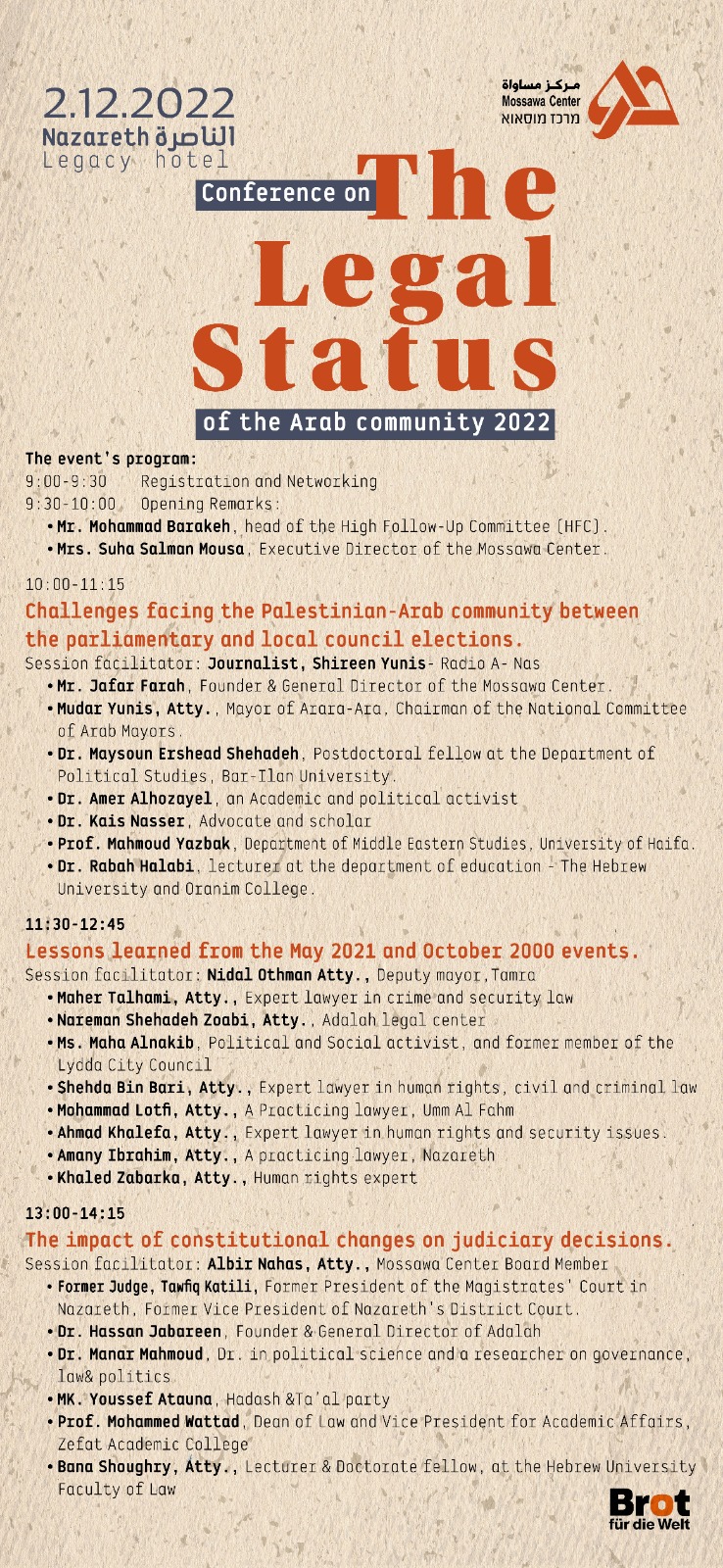 The Legal Status conference of the Palestinian Arab society
A platform for a dialogue on the recent election's results and the planned legal changes of the Israeli government
The Mossawa Center will hold its conference on the legal status of the Palestinian Arab society on Friday 2.12.202, after the parliamentary elections, with the aim of discussing the election results and legal changes planned by the new government coalition. In the aftermath of the debate that took place before and after the elections in the Hebrew media and the result of the disturbing elections, it will become necessary for the political leadership to sit next to a group of researchers on one platform in front of the public, to discuss with it and with the public about what happened and what lies ahead. The Mossawa Center's main message through the conference is that "Arab parties avoided sitting on common platforms for debates throughout the election period. The public expects political leaders to sit on the same platform and hear from them about the lessons learned from the election experience and their preparations for the near future. It has become clear that the BenGvir - Netanyahu's government will run the state during the next four years, and the political parties, civil, media, and civil society institutions must prepare for the next stage, which will include targeting the Palestinian Arab community and attempting to weaken it and delegitimize it.
Political leaders and researchers should discuss the impact of the results of the parliamentary elections on the legal and political status of our Arab society and how to confront racist laws and racist policies against our society. It is crucial to discuss the Arab community's ability to cohesion between the parliamentary elections and the local authorities' elections that will take place during October 2023.
The second panel of the conference will discuss the "lessons" learned from targeting the Palestinian community between the events of October 2000 and the events of May 2021 in terms of official state institutions such as the government, the police, the intelligence, the judiciary, and the media, and in terms of the civil fascism movements that assaulted Arab citizens and Arab neighbourhoods. We witnessed an increase in racism during the campaign and the political support that the racist settlement parties received in the elections. Police violence and the closing of investigation files by "Mahash" (Police Investigation Unit).
The third panel of the conference will address the legal changes planned by the new government to the judiciary and their impact on the status of Human Rights in general and Palestinian Arab society and the defence of human rights in the occupied territories. During this panel, the challenges of integrating Arabs into the judicial system will be addressed, such as the Public Prosecution and Public Defense - the Ministry of Justice, and the appointment of judges in the judicial system, from traffic courts to the Supreme Court of Justice.