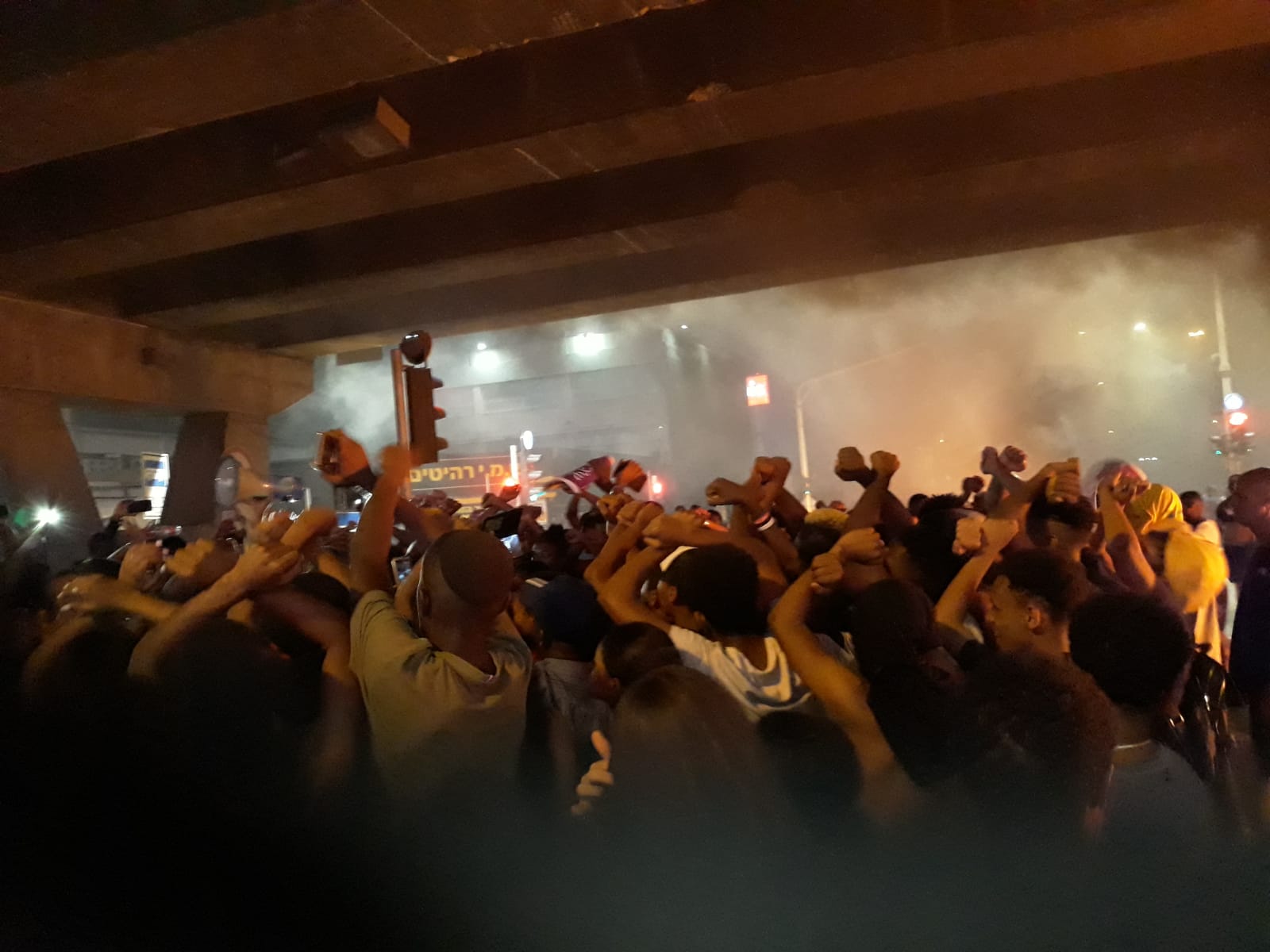 The Mossawa center expresses solidarity with the Ethiopian community of Israel following another unlawful death at the hands of Israeli police forces.
Protests erupted on Monday night in Kiryat Haim outside of Haifa following the shooting of 19 year-old Solomon Tekah in a local park on Sunday night. Shot by an off-duty police officer, Tekah succumbed to his injuries and was pronounced dead at Rambam Medical Center in Haifa. The police alleged that Tekah had been involved in a fight and had thrown stones at the officer. Eyewitnesses, however, have dismissed claims that the officer's life was threatened. Protesters gathered outside Haifa police station on Monday night, with similar demonstrations being held across the country.
Undue force and violence has characterized the behaviour of the Israeli police force against the state's minority groups for decades. Tekah's murder, the second police killing to take place against Israelis of Ethiopian descent in six months, has thrown light on the second-class status of communities of color in Israel.
Over forty Arab Palestinian citizens of Israel have been murdered by Israeli police officers since 2000. The 'restraint and responsibility' called for by the police chief in light of Tekah's death clearly does not apply to Israel's marginalized groups, who remain the victims of state violence. While the officer who shot Tekah dead on Monday remains under police protection, such protection is not afforded to minority groups they are bound to protect.
The Mossawa Center denounces the continuance of police violence and calls for an end to the discrimination and violence faced by marginalized groups in Israel.
The following is a list of Arab civilians deaths resulting from police brutality and hate crimes. For more information, please contact
[email protected]
| | | | | |
| --- | --- | --- | --- | --- |
| | Name | Place of Residence | Date | Responsible Party |
| 1 | Eyad Lawabneh | Nazareth | 2 October 2000 | Police |
| 2 | Mohammed Jabareen | Umm al-Fahm | 1 October 2000 | Police |
| 3 | Ahmad Jabareen | Mu'awiya | 2 October 2000 | Police |
| 4 | Rami Ghara | Jatt | 2 October 2000 | Police |
| 5 | A'laa Nassar | Arrabeh | 2 October 2000 | Police |
| 6 | Asel Asleh | Arrabeh | 2 October 2000 | Police |
| 7 | Emad Ghanayem | Sakhnin | 2 October 2000 | Police |
| 8 | Waleed Abu Saleh | Sakhnin | 2 October 2000 | Police |
| 9 | Mosleh Abu Jarad | Umm al-Fahm | 1 October 2000 | Police |
| 10 | Ramez Bushnaq | Kufr Manda | 3 October 2000 | Police |
| 11 | Muhammed Khamayse | Kufr Kanna | 3 October 2000 | Police |
| 12 | Omar Akawe | Nazareth | 8 October 2000 | Police |
| 13 | Wisam Yazbek | Nazareth | 8 October 2000 | Police |
| 14 | Ahmed Tarabeen (21) | Segev Shalom | 19 October 2000 | Police |
| 15 | Mahmod Ahmed Tarabeen (20) | Tarabeen Al-Sanei | 15 February 2001 | Security Personnel |
| 16 | Haitham Abu Samadaneh | Tarabeen Al-Sanei | 26 October 2001 | IDF |
| 17 | Manahal Yousef Daraghmeh | Baqa Al-Gharbiyeh | 21 February 2002 | IDF |
| 18 | Bilal Subhi Badran | Umm al-Fahm | 19 March 2002 | IDF |
| 19 | Sumaiya Mahmoud Zidan | Yamma | 17 May 2002 | IDF |
| 20 | Mahmoud Zahayka | Jerusalem | 18 May 2002 | IDF |
| 21 | Bassem Abu Sbeit | Hura | 23 May 2002 | Police |
| 22 | Imad Hamdoun | Haifa | 15 August 2002 | Civilian |
| 23 | Sabri Hamdan Amara | Kufr Kanna (killed in Beit Rimon) | 4 December 2002 | Police |
| 24 | Sudki Idris | Taibeh | 25 December 2002 | Police |
| 25 | Basem Elsamodi | Umm al-Fahm | 6 February 2003 | IDF |
| 26 | Mursi Jabali (25) | Taibeh | 22 July 2003 | Police |
| 27 | Nasser Abu El Geaan | Kufur Atir | 24 July 2003 | Police |
| 28 | Mahmoud Al Sadi | Lod | 8 December 2003 | Police |
| 30 | Tamer Sarsor | Kufr Qasim | 15 November 2004 | |
| 29 | Hazar Turki | Shefaraam | 4 August 2005 | Civilian |
| 31 | Dina Turki | Shefaraam | 4 August 2005 | Civilian |
| 32 | Mishil Bahoth | Shefaraam | 4 August 2005 | Civilian |
| 33 | Nader Haik | Shefaraam | 4 August 2005 | Civilian |
| 34 | Samir Dari | Esaweye, East Jerusalem | 9 November 2005 | Police |
| 35 | Nadim Milhem | Ara'ara | 19 January 2006 | Police |
| 36 | Mahmoud Ghanaim | Baqa Al-Gharbiyeh | 4 July 2006 | Police |
| 37 | Iyad Abu Reia | Yaffa | 4 October 2006 | Police |
| 38 | Khaled Abu Trash | Negev (killed in Mazraa) | 13 January 2007 | Civilian |
| 39 | Taiseer Karakra (35) | Ramat Gan | 14 May 2007 | Civilian |
| 40 | Imad Khori | Haifa | 5 November 2007 | Civilian |
| 41 | Salman Ataika | Wadi Naam | 21 February 2008 | Police |
| 42 | Sabri Jirjawi | Ashkelon | 3 July 2008 | Police |
| 43 | Sameh Karawani | Mghar (killed in Nazareth Illit) | 18 June 2009 | Civilian |
| 44 | Hussein Atrash | Negev (killed in Kufr Ben Non) | 1 September 2009 | Police |
| 45 | Hazem Abu Dabaat | Jerusalem (killed in Tel Aviv) | 14 September 2010 | Police |
| 46 | Mahmoud Ahmad Ebeid | Tuba Zangaria (killed in Majd al-Krum) | 1 November 2011 | Police |
| 47 | Ramy Fachory | Nazareth | 11 June 2014 | Police |
| 48 | Khir Hamdan | Kufr Kanna | 8 September 2014 | Police |
| 49 | Sami El-Ja'ar | Rahat | 14 January 2015 | Police |
| 50 | Sami El-Zyadneh | Rahat | 18 January 2015 | Police |
| 51 | Sanad Haj Yehia | Taibeh | 27 February 2016 | Police |
| 52 | Jebril Jeroshi | Ramle | 27 July 2016 | Police |
| 53 | Yaqoub Abu Al-Qiyan | Umm al-Hiran | 21 January 2017 | Police |
| 54 | Mohamad Taha | Kufr Qasim | 6 June 2017 | Police |
| 55 | Mahdi Saadi | Yaffa | 27 July 2017 | Police |