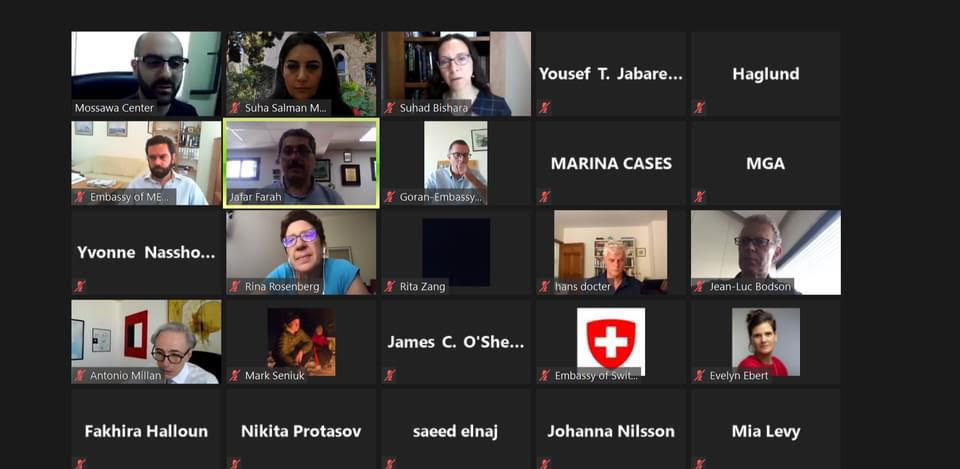 Today, May 20th, the Mossawa Center and Adalah organization conducted a joint briefing with more than 45 foreign diplomats and
ambassadors to display evidence and provide information of the country's ongoing racism and incitement against the Arab
community inside Israel, and the live situation on the ground.
Director of the Mossawa Center, Jafar Farah
Senior attorney at the Adalah Organization, Suhad Bshara
Chair of the human rights forum, High Follow-up Committee for Arab citizens, Dr. Yousef Jabarin
Moderated by Coordinator of International Advocacy at the Mossawa Center, Wasim Nasser
The briefing began with portraying our condolences to Dr. Jabarin and his community in Um Al-Fahem following the tragic death of
Mohammad Kiwan Mahameed, a 17 year old young man that was shot in the head by live ammunition from the Israeli police.
Mr. Jafar Farah began the briefing with an abridged presentation discussing the chronology of the series of events. Beginning with the
public and political legitimization of Otzma Yehudit, a Kahanist Party, who gained 6 seats in the latest elections. Farah also discussed
topics of Sheikh Jarrah, the escalation of the war on Gaza, and the violent attacks on peaceful protestors and Arabs in Israel. "All of
this has had a very bad effect on the youth. They need hope. They need something to look up to."
Following Mr. Farah, Ms. Suhad Bshara briefed the diplomats about the legal ramifications that the detainees are facing, the
work related incitement and termination of people supporting the strike, and the legal issues facing in Sheikh Jarrah.
Ms. Bshara also
spoke about the context of systematic oppression, the occupation, the arbitrary arrests, and Jewish privilege within the court system.
"Hamas is new, and the conflict existed long before Hamas was formed. And Palestinian have existed long before that.
Hamas is just an excuse… The state is trying to delegitimize the Palestinian goals and demands. This is clear. The Palestinians are
oppressed for their non-hostility."
Lastly, Dr. Yousef Jabarin spoke about his personal experience in Sheikh Jarrah and the violence he faced
there from Israeli police forces. Dr. Jabarin also discussed the double standards of the police, the result of
violence due to the Nation State Law, the letter of the follow-up committee written to the international community,
and the Netanyahu and extreme right-wing agenda.
"One of the reasons to manufacture a conflict, to force a conflict and an armed conflict, was to win Netanyahu
more time, to distract the public and to stay in power, so that he has more time for the inevitable, fifth election.
Also to signal to the conservative and fundamental base that he is willing to support their radical ideology
(seizing all the land for a radical, Zionist, state)."
Overall, the three panelists' requests from the
international community were united:
• Demand an immediate cease fire and stopping the war on Gaza
• Preserve of the right to freedom of worship for all
• Preservation of the right of the freedom of movement
• Protection of the right to express opinion and demonstrate without being subjected to security oppression or persecution
• Reject any attempts to seize the property of Palestinian citizens including Sheikh Jarrah and Naqqab