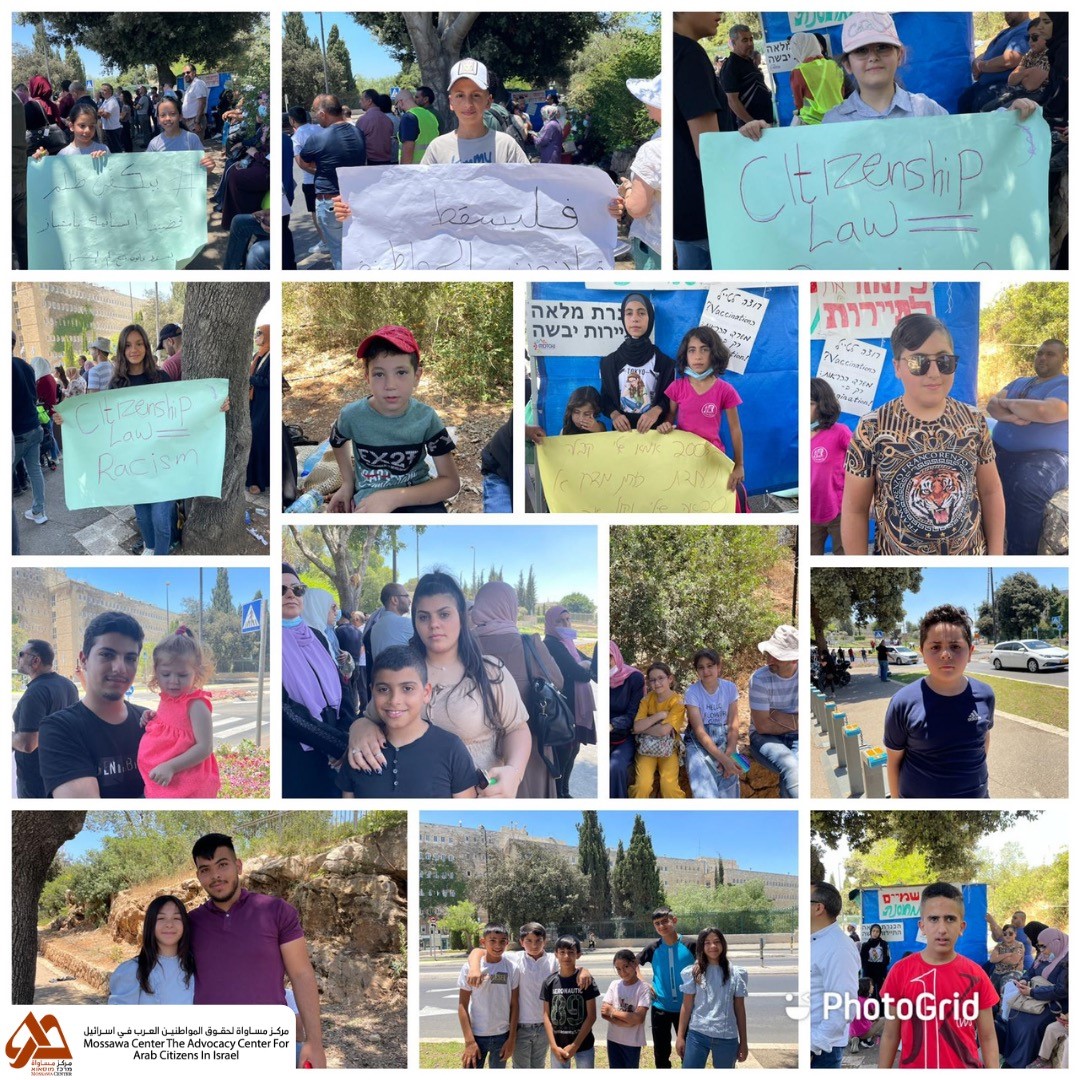 The Mossawa Center, which has vehemently opposed the Citizenship Law since 2005, stressed the importance of rejecting the extension of the Law which has been renewed annually since 2003.
The law's renewal failed after 59:59 vote, which came in the wake of a media storm and legal battle that was fought by the affected families and the Mossawa Center during the past month. Families mobilized, organized, and participated in weekly demonstrations at the entrance of the Knesset, while a legal team drafted and presented their demands to members of the Knesset. The Mossawa Center initiated dozens of meetings, attended by the families, with Knesset members from various parties.
In 2003, the government of Israel sanctioned The Citizenship and Entry into Israel Law (temporary provision) of 2003, following petitions submitted to the court against illegal policies practiced by former Minister of Interior, Eli Yishai, at the time. The court ordered the enactment of a clear-cut law concerning family unification. Fearing additional petitions, the Knesset quickly approved a temporary adaptation of the Citizenship Law, to be extended annually.
The High Court of Justice refused to repeal the law despite its criticism of its explicit infringement on basic human rights and dignity. Following a petition, the former Minister of Interior granted 1,600 temporary IDs to families.
Families affected by the law face active discrimination and are obliged to submit forms and documents annually to the Ministry of Interior for approval. Members of the families cannot attain social or political rights, including health insurance, or the right to vote, and are often blackmailed.
Yesterday, Minister of Interior Ayelet Shaked insisted on voting for the law, which was appealed by the former government, and expressed her racist position, claiming the spouses of Palestinian Arab citizens of Israel pose a civil and security threat to the state. The families have refuted these claims publicly in media outlets and parliament. The Mossawa Center considers the extension of this law a "racist collective punishment of Palestinian families," and accompanied the families in the demonstrations to call for a repeal of the law and for a fair family unification policy to be enacted.
The Mossawa Center points out that the current Israeli immigration policy allows any Jew in the world to obtain permanent citizenship and a grant simply upon their arrival at the airport. Conversely, the same policy prevents the unification of Palestinian families torn apart by racist and baseless accusations.
Additionally, the failure to extend the Citizenship Law does not mean that families will obtain citizenship and basic civil and social rights, as the main citizenship policy's "unification" process requires many years.
The Mossawa Center calls on all members of the Knesset, both Arab and Jewish, the families impacted by the law, as well as civil and human rights organizations to continue working and lobbying to reach a just and fair "unification" law that honors the right to form a family.