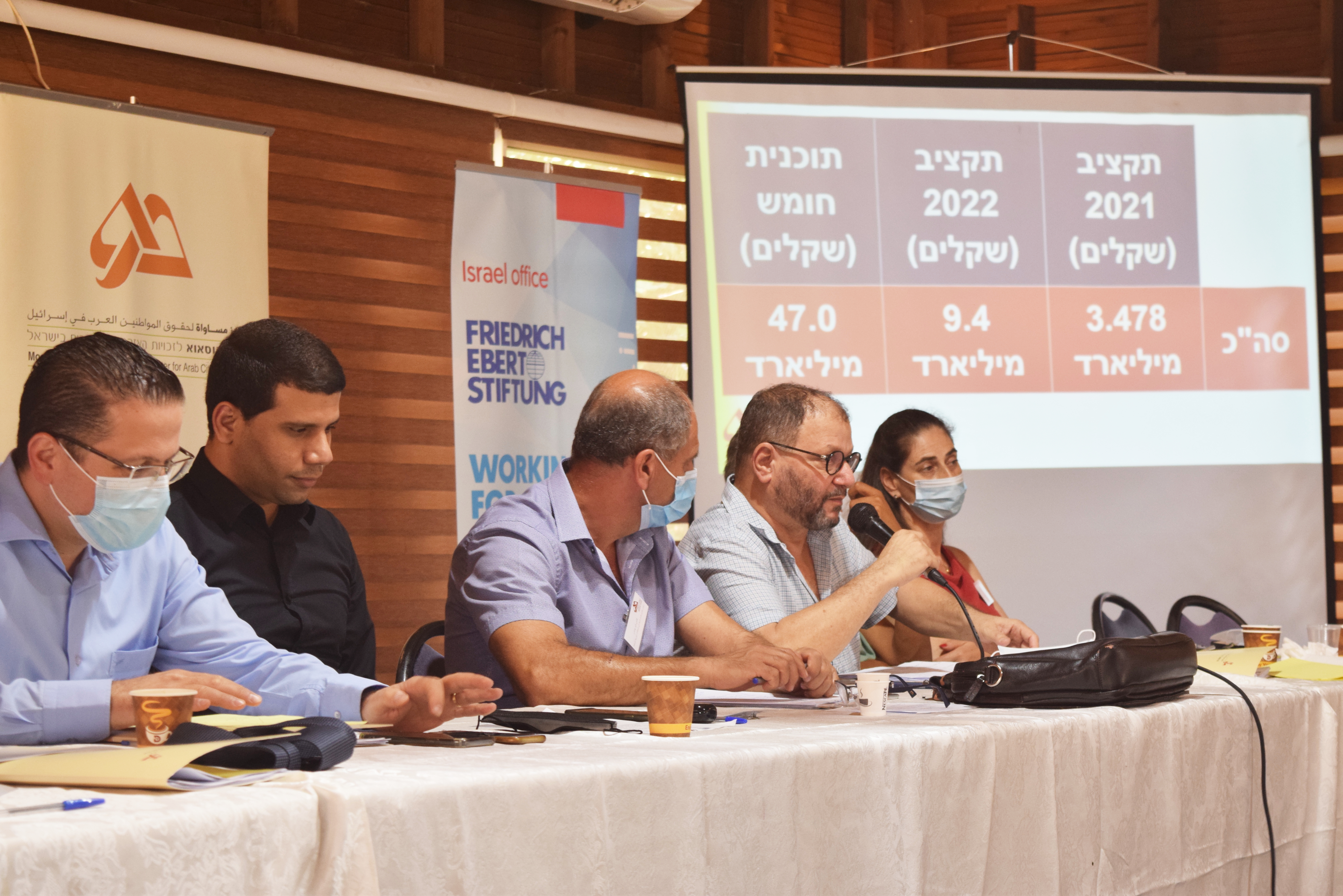 In preparation for next week's vote on the State Budget, the Mossawa Center hosts a workshop to spell out the Palestinian Arab Community's needs
Set to be hosted in Nazareth on Thursday, August 26, in cooperation with the Friedrich Ebert Foundation, the Mossawa Center's workshop aims to clearly define the needs of the Palestinian Arab community from the 2021-2022 State Budget. The workshop is critical as it prepares NGOs, Knesset Members, elected officials, and public figures to effectively push the demands of the Palestinian Arab community forward in the Knesset in the coming weeks. The State Budget is set to pass a preliminary vote at the end of August, sending it to the Knesset Finance Committee and various other relevant committees for further deliberation, after which it will face a final vote at the end of October.
The Mossawa Center's Executive Director, Suha Salman Mousa, said, "we are preparing in the coming days to present the needs of the Palestinian Arab community and put pressure on the government for the just allocation and expenditure of government funds from the 2021 and 2022 State budgets, which total 432 billion ILS ($134 billion) and 452 billion ILS ($140 billion), respectively."
The workshop will be attended by representatives from professional institutions specializing in various fields, Knesset Members, specialists in economics, representatives from ministries, and heads of municipalities and local councils. Palestinian Arab Knesset Members sitting on the Finance Committee were invited to participate in the workshop. At the end of the workshop, the Mossawa Center will issue a detailed working paper on the budgets required from different ministries for the Palestinian Arab community. The paper will be distributed to Knesset Members before the budget is approved.
In the first session of the workshop will discuss the lessons drawn from the government decisions and economic policies that have been applied in recent years by Ministries of Housing, Education, Transportation, and Social Equality.
The second session will discuss the needs of the Palestinian Arab community from the State budget for the coming years and will focus on the Ministries of Health, Social Equality, Economy and Industry, Environmental Protection, Agriculture and Rural Development, Culture, as well as issues pertaining to the Negev, mixed cities, and higher education.
The workshop will also include a full review and data analysis of the current proposed budgets allocated to the Palestinian Arab community. The proposed budgets are supposed to close the gaps between the Palestinian Arab and Jewish communities in several areas including health, education, housing, and poverty. It is worth nothing that the currently proposed budget is similar to previous years' budgets and, despite being approved, has not contributed to the development of Palestinian Arab society nor reduced any gaps with the Jewish community.
The Mossawa Center warned two weeks ago of the danger from the government and Knesset ratifying the State budget without approving a clear plan to close gaps and support economic development in the Palestinian Arab community.