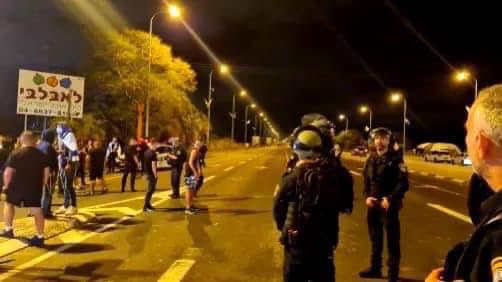 The Ministry of Justice approved the request of attorney Marian Abi Nader, a Board Member of the Mossawa Center, to formally acknowledge the injury of a Palestinian Arab minor from Haifa during the May 2021 demonstrations, as well as compensate her with a sum of money to finance her necessary medical treatments and rehabilitation.
The young woman, who shall remain unnamed due to privacy and health concerns, was attempting to evade right-wing assailants during the peaceful Dignity Strikes of May 2021. According to police reports, she took cover in the Garden Restaurant located in the German Colony at 8pm, on May 11, 2021. During confrontations between police and peaceful demonstrators, a loose stone struck her in the face as she was trying to escape, and rendered her unconscious. She was transferred to the nearby hospital, the Rambam Health Care Campus located in Haifa, where it was decided that the removal of her eye was pertinent. Medical reports indicate that the loss of an eye, and the impairment in the girls' ability to see, led to an unstable health and psychological condition.
Attorney Marian Abi Nader states, "Unfortunately, the case has taken a full year to be resolved, although the talk is about a minor who lost her eye as a result of racist violence against Palestinian Arabs in Haifa. Unfortunately, the police has not yet identified the suspects who caused her injury. We will continue to accompany her recuperation journey."
The girl requested the Mossawa Center's accompaniment for the judicial processes. No suspects have been apprehended by police thus far.