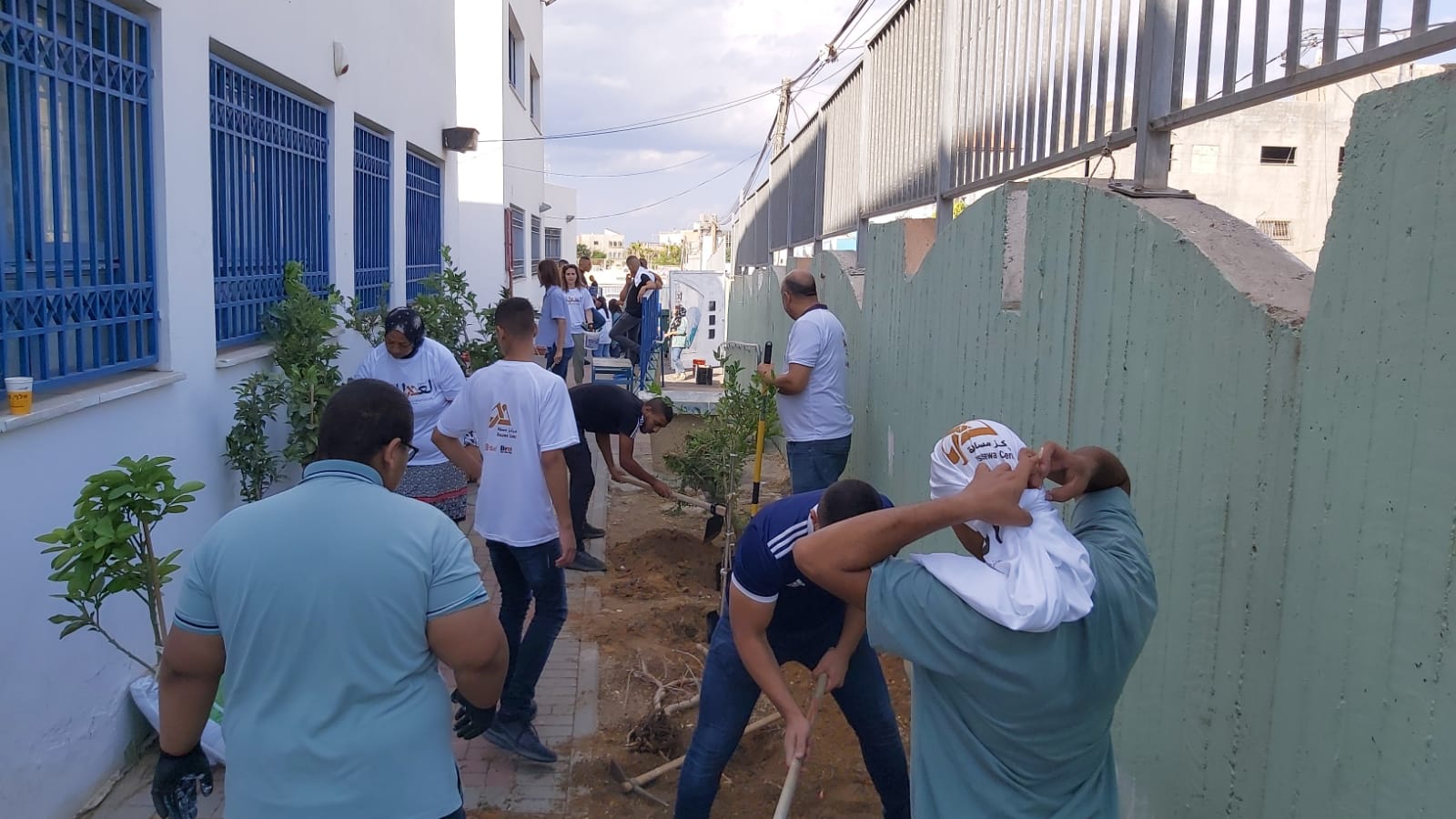 "We love life whenever we can"
The Mossawa center Launched "Giving Week" Activities in Jisr Al-Zarqa Village
This morning, "Giving Week" activities and programs were launched in the neighborhoods and beaches of Jisr Al-Zarqa village.
It is not a coincidence that "Giving Week" was opened in Jisr al-Zarqa, with the aim of shedding light on the policies of discrimination and marginalization that the village suffers from, in addition to emphasizing the importance of strengthening networking and social cohesion between various Arab towns and youth groups.
High school students in the village and a group of female volunteers from several towns, including the youth group from the "Yafa-an Nasri" Community Center, participated in the activities. The activities included drawing a mural with the artist, Munira Turkman, in a drawing that expresses the meanings of giving and belonging and planting roses and citrus trees in the schoolyards, contributing to volunteer work and cleaning up the village's beach, listening to the story of the fishermen's village and the people's continuous struggle against the policies of discrimination and restrictions.
The meeting between high school students, female volunteers, and volunteers with lifeguard Hamama Jarban and the family of the lawyer Raed Mahamid had the greatest impact and carried several meanings about giving and belonging, and the support of members of the Arab community to each other.
Where the family of the lawyer Raed Mahameed attended specifically to participate in the activities of the "Giving week" in Jisr Al-Zarqa to express their thanks and gratitude for the lifeguard Hamama Jarban, the people of Al-Jisr.
The Mossawa center will continue with "Giving Week" activities will continue from 10/13 to 20/10 in 20 towns of the Galilee, the Triangle, Al Naqab, and the coastal cities, in partnership with a number of associations, NGOs, local initiatives, schools, community centers, youth departments, and volunteering in local councils.
Towns Participating in Giving Week:
Jisr al-Zarqa, Kafr Qara, Musmus, Shafa Amr, Rahat, Baqa al-Gharbia, Haifa, Lod, Taybeh, Iblin, Kabul, Majd al-Krum, Sakhnin, Nahaf, Tamra, Yafa, Nazareth, Zimmer, Arraba, Nazareth, and Kafr Kana.
Let's turn the activities of Giving Week into a popular activity in protest against the difficult conditions our society is going through and against the policies of discrimination against Arab citizens.